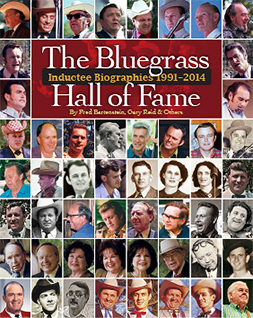 Buy your autographed
copy today!

$39.95$35.00 plus shipping

Publisher: Holland Brown Books
Author: Fred Bartenstein, Gary Reid & Others
Foreword by Joe Wilson
Pub Date: 1/1/2015
Pages: 256 pages
Dimensions: 8 x 10 in.
Illustrations: 44 color, 19 black & white photographs
ISBN: 978-0-9897544-1-5
Format: Hardcover


The Bluegrass Hall of Fame
Inductee Biographies 1991-2014
By Fred Bartenstein, Gary Reid & Others
The International Bluegrass Music Museum presents, for the first time in book form, carefully researched and engagingly written profiles of the pioneers of bluegrass music. The authors, who knew most of the Hall of Fame members personally, document not only the facts and career accomplishments of these men and women, but also capture a sense of their personalities and their impact upon fellow musicians and fans. The biographical sketches are accompanied by photographic portraits, many never-before published. A brilliant and multi-colored bluegrass mosaic emerges in this historical work, a handsome addition to the libraries of music lovers everywhere.
"This is a collection of biographical material about musicians who changed the world they inherited. They changed it suddenly and dramatically, and their creations are still evolving and reaching into the future. Millions turn to that sparkling stream of sound, knowing instantly that it speaks to their souls. Nothing created on our shores is more instantly recognized as 'American' than this music called bluegrass."
– Joe Wilson, Founder/Chairman Emeritus, National Council for the Traditional Arts